Google Accidentally Said Tool's New Album Was Released Monday
What Google meant was TOOL$ new album came out Monday (July 16).
What Google wrote in a push notification that sent thousands of Tool fans into a panic was "IllutionWorld by Tool was released today."
Now, Tool fans are an ornery, pessimistic lot, and most of them wouldn't be surprised to learn the band was releasing its new album with no prior announcement. They also wouldn't be surprised that the band would play a trick on them, even though the band members have acknowledged the frustration around the delays in production.
But Google? Google would never treat them like that!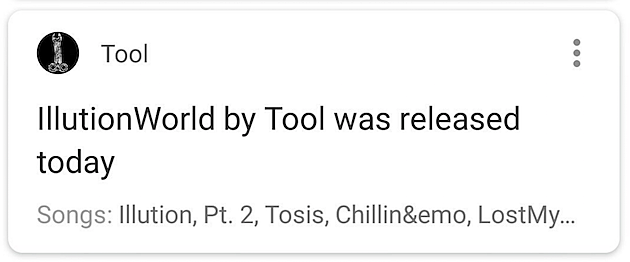 It seems the notification was an honest mistake on the part of the tech giant since TOOL$ is not a legendary progressive rock band, but a Soundcloud rapper who indeed released an album called IllusionWorld on Monday. It appears the problem with the notification arose from the $ character in TOOL$'s name. But (the real) Tool fans were not amused.
Tool's last album, 10,000 Days, was released in 2006. Fans have been waiting not-so-patiently for a new album for the past 8 - 10 years. So you can imagine the fury this mistake generated on social media.
"What kind of a MONSTER would name their music group TOOL and release an album today and then send my phone a notification saying 'NEW ALBUM FROM TOOL' close to the time we're expecting an album from the real Tool," complained a fan. "I actually thought they just dropped their album 6 months early."
One user said he left a work meeting to check the veracity of the notification.
"@Google Why such notifications? I just stepped out of meeting room to check," wrote another user.
"Screw you Google," wrote another fan. "Don't play with my heart like this."
Unfortunately, the real Tool is most certainly aware of the mix-up, and it probably only increases the likelihood of some intentional chicanery in the future. Stay strong, everyone.
The band's singer Maynard James Keenan said this spring that the new album will arrive in 2019, after he completes touring obligations surrounding A Perfect Circle's new album, Eat the Elephant — its first in 14 years — which came out in April.
Photos: Getty Images